Our History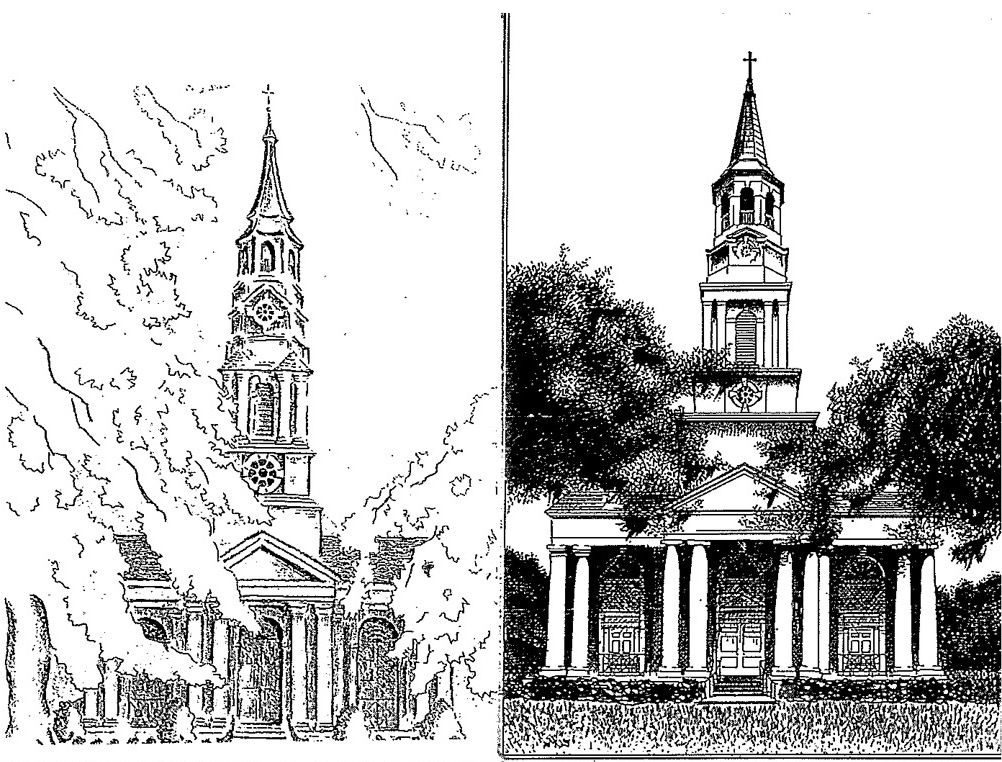 Saint James Church has a long history on James Island. In November, 1706, the assembly of South Carolina appropriated money to establish six churches. Saint Andrew's Parish included James Island; and the Anglican congregation on James Island was active and recognized as a separate entity by 1720. The congregation met in a house with the rector of Saint Andrew's Parish, Rev. William Guy. In his report of August 1, 1722, plans for the building of a chapel were mentioned. That chapel was probably completed in 1722
James Island was remote in the early years and the parish went into disuse several times. The first of these times was during the American Revolution when it appears there was no priest from 1773-1787. The records were destroyed with the building, making little else known about the church.
After the war, Rev. Thomas Mills (1787-1816) came seeking "asylum in the land of civil and religious liberty", after, as he states, "A political sermon exposed me to persecution and obscured my future prospects". As minister of St. Andrews he preached at St. Andrew's Chapel of Ease on James Island once a month. During the Revolutionary War the chapel building was destroyed and the third chapel building was completed just as Rev. Mills tenure began in 1787.
Between 1839-1842 Stiles Mellichamp, after whom Mellichamp Drive and Stiles Point Elementary School are named, rose to be a liturgical and spiritual lay leader on the Island. Hearing God's call on his life, Mr. Mellichamp began studying for orders. Freshly ordained, Rev. Mellichamp (1842-1851, 1853-1863) took Saint James as his first cure. Under Rev. Mellichamp much attention was given to "nurture and admonition of the negroes." He preached "3 or 4 times" each Sunday to both white and black congregations on "the Glorious Cause". In 1862 services were discontinued because of the war. Rev. Mellichamp, along with many of his family members, fought in the Civil War. During the War between the States, all communicants of Saint James left the island. The church was destroyed by fire in 1864 unrelated to the war and services were held in the Presbyterian church after everyone returned.
From 1864 to 1899, few services were held. However, God had big plans for Saint James and in 1898 Saint James was organized as a mission again. Through Rev. Cornish's ministry, God touched the severe needs of the war struck island and Saint James was instrumental in providing farming jobs to many unemployed, providing needed food to the hungry.
In 1946, Rev. Edward Brailsford Guerry (1946-1960) held regular weekly services for the first time since 1861. He built both a parish house in 1949 and a bigger new church in 1959 (completed in 1960 and consecrated in 1964). Both these buildings still stand today. In 1968, under Rev. Charles Duvall (1962-1971) the congregation grew significantly requiring the parish house to be doubled in size to add Sunday school and office space.
The 70's were a time of spiritual renewal in the US and a fresh experience of the Holy Spirit. The Toronto movement, John Wimber, the Jesus Movement, and many more expressions of the Spirit hit the church. Saint James was not exempt from this, and every member of the church was influenced to one extent or the other by what God was doing. Under Rev. Richard Dority (1971-1979) the Holy Spirit breathed a new experience of God's power into Saint James. God was propelling the Church out of the buildings and into the world.
Later, Rev. Paul Zahl (1988-1992) came and brought a deep and profound understanding of grace as well as an appreciation for life long Christian formation. His tenure was one of great intellectual growth in the congregation. He later became the Dean of Trinity Seminary. He left his transitional deacon, Rev. Arthur Jenkins, in charge until Rev. John Howard (1993-1998) was called. When Rev. Howard became Vicar of Trinity Wall Street and then Bishop of the Diocese of Florida, Rev. Arthur Jenkins was called back to become rector.
For more in-depth information on the history of Saint James Church, find Virginia Bartels' comprehensive book here.